After yesterday's harsh sunshine, rain.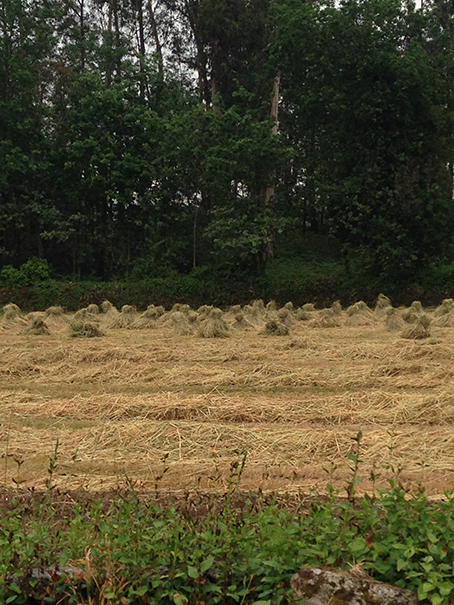 Day three of our Carers Walk for Wellbeing, from the ancient town of Barcelos to the Casa dos Assentos in Northern Portugal, takes us more than 16 kilometres north, towards our destination of Santiago, then onward to Finisterre, once known as the end of the world.
We are going the distance for family carers, to encourage them to have some time out each day to sustain themselves. So they can keep going to the end of the world and back again for those they love.
Many carers scoff at the idea of finding even 30 minutes each day for a nap, for exercise, or to maintain hobbies and friendships.
Almost 90% are of workforce age, and two thirds are women, juggling jobs and family responsibilities and, yes, caring for someone who is elderly, ill, or has a disability or chronic condition.
Often carers put their own wellbeing last, and they suffer for it.
40% of family carers are injured in their role, and more than three quarters experience depression.
Almost 40% have health or disability needs of their own, in addition to supporting someone else.
Many don't have health and dental checks when they should and, for older carers, the responsibilities of supporting someone with high needs (a spouse, or an adult disabled child) is an independent mortality risk.
Helping them take steps to conserve their own wellbeing is a key role for Carers NZ, the national not for profit providing information, advice, and support for New Zealand's family carers.
Our camino to the end of the world and back again is a reminder that to care well for others, family carers need to think about their own wellbeing, too.
To recognise the signs of caregiver burnout, and to think about when it might be time to let go … to stop providing hands-on care.
If you're a family carer, surf through Carers NZ's website where you'll find lots of free wellbeing resources to help you look after yourself, so you can continue to care well for someone else. Try our new resources for people at different stages of caring:
Are You Caring for An Older Family Member or Friend?
Are You An Older Person Caring for Your Partner, Family Member, Or Friend?