By Laurie
These Kiwi carers are a fit lot.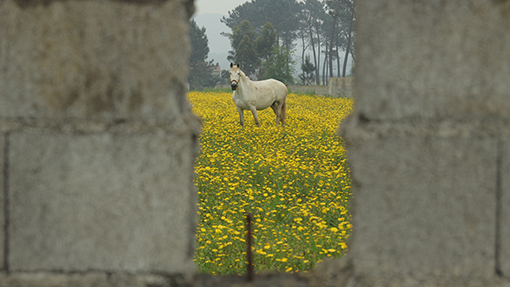 Despite early murmurs by some when planning the camino that they couldn't possibly hike up to 25 kilometres a day, the carers are the first ones out the door each morning.
In nanoseconds they are specks in the distance.
I don't see them again until the evenings, when they've already washed their smalls and perhaps had a nana nap by the time I arrive. Then again I suspect the carers are bionic; they probably don't have nana naps.
I thought the camino's appeal for carers might be an opportunity to reflect and meditate as they crisscross Portugal into Spain.
But this doesn't seem to be the case.
Instead, they seem to enjoy switching off. To just walk. And walk. And walk.
After a fiery initial few days, down came the mist and rain.
The walking since has been wet, cool, and surprisingly pleasant.
We are all kids again, sploshing our way to Santiago in our raincoats and plastic ponchos.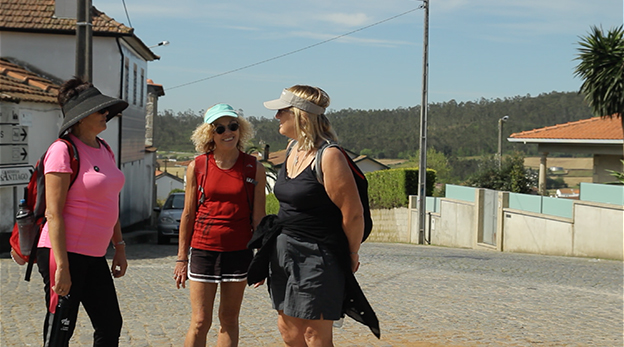 Where possible we're on the backroads, passing farms and sharing the quiet lanes with manure-laden wagons and horses, cows, sheep, goats and chickens. And dogs. Lots of dogs.
You could hopscotch past the dry piles of poop when the weather was dry.
But now the camino is a river. A cascading vat of poop soup.
No one cares, though.
Along the way are small cafes where you can share an excellent Americano elbow to elbow with local farmers, and sometimes cajole them to have a photo taken with you.
There are ham and cheese toasted sandwiches, hardboiled eggs with salt, grilled chicken or sardines served with frites (fries) or boiled potatoes. You can have a Super Bock beer (or three) if you fancy, as Alistair did yesterday. Or maybe just a pocketful of peanuts in the shell to crack under a tree while you have a spell from the poop soup.
Each day carers hand me some handwritten sentences for the blog, or send a short email.
Read them all here at the website.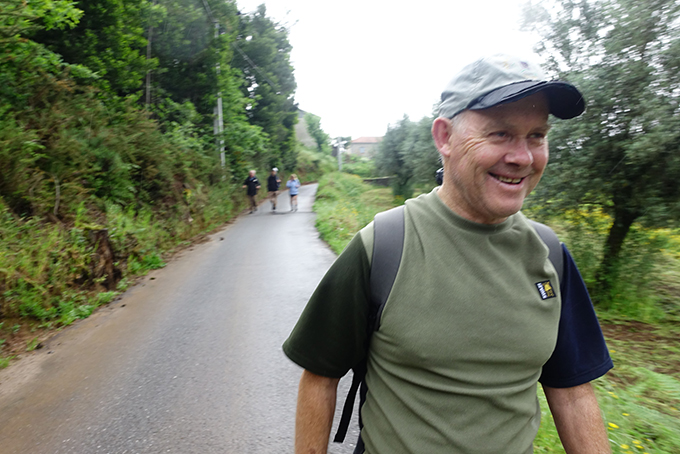 Ian Hansen in front, as usual!
If you're a family carer it can be hard to keep going sometimes. Be sure you know about available support by reading the Government's helpful Guide for Carers. It's worth reviewing this resource at least once a year!