To the end of the world and back again: family carers do it every day
Finding time for personal wellbeing can be hard for carers.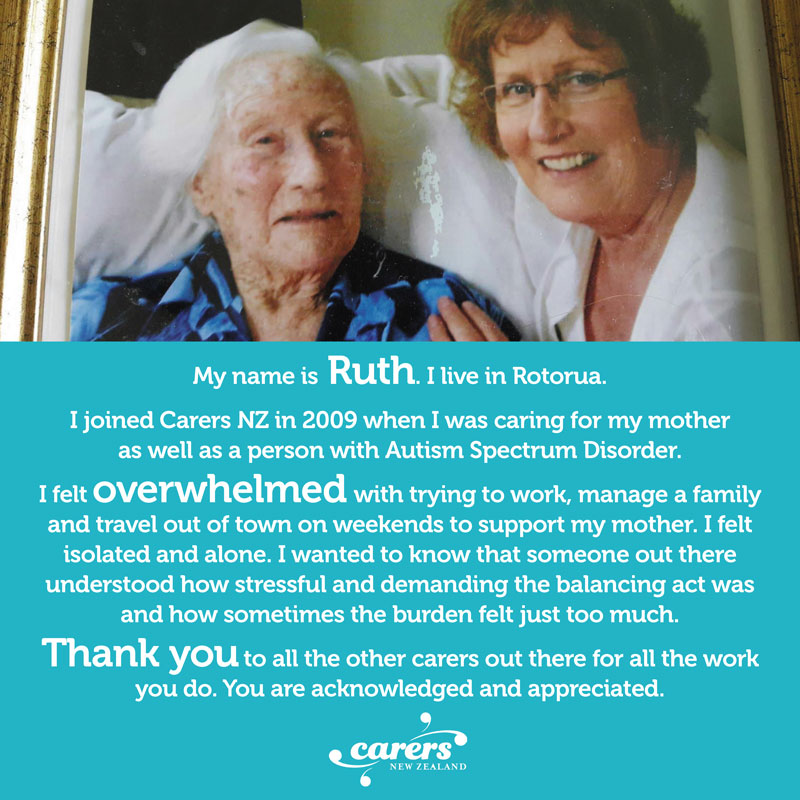 Their lives are busy supporting others, and almost 90% of New Zealand's carers are of workforce age (15 to 65), so a majority are juggling family commitments with paid work.
Then there are the 24/7 family carers, the busiest carers of all. For them, finding even 30 minutes of personal time a day can seem an impossible challenge.
And yet, we all know that finding this time is needed to continue providing thoughtful, quality support to others. Unlike the new human-like robots, touted as a future answer to the care demands of our ageing world, real people aren't machines. They need regular down time … time out … to go the distance.
That's why Carers NZ is devoting its first ever awareness campaign to the issue of carer wellbeing.
In recent years we've developed many free resources to help carers proactively plan for personal time out, and will be promoting one of these programmes daily during May.
You'll find all of these resources here at our website.
It's worth clicking through the sections for stories, audio meditations, our Time Out respite planning guide, follow-along video exercise programmes, free downloadable infopacks, and Anna Filliol's Stretch Focus & Relax series, designed to help carers (and anyone who feels a bit stressed) unwind through stretching, breathing, and relaxation exercises.
People who have provided long-term support for others know that to prevent burnout, it's important to pace yourself.
In May a small group of Kiwi carers will walk 225 kilometres from Portugal to Finisterre in Spain, for centuries known as 'the end of the world'. They'll be going to the end of the world and back again to remind all carers to plan for regular time out, so they can stay well and keep going.
The camino is an opportunity for several carers to have two weeks of special time out, for meditation, reflection, and wellbeing. We'll be sharing their stories and wellbeing suggestions for other carers at our blog and at our Facebook page, www.facebook.com/CarersNZ. Be part of the journey by checking in regularly, and spending a few minutes reviewing the wellbeing resources for carers we will promote along the way.
Carers making the journey put themselves forward during our call for volunteers last year.
Help us care for New Zealand's carers and support the Walk for Wellbeing:
https://givealittle.co.nz/fundraiser/walkforcarers
Follow our progress:
www.facebook.com/carersnz