Tracking the yellow arrows
By Jan Foster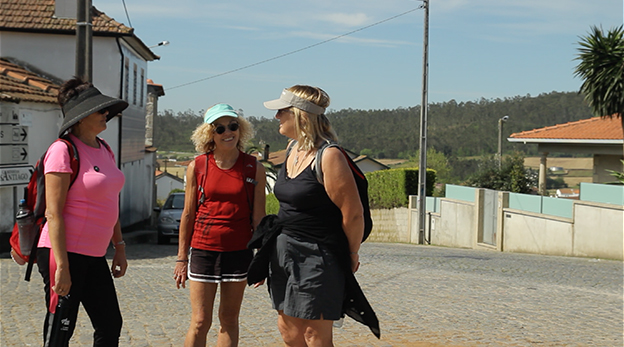 Today's hill trek wasn't as bad as expected but misty rain meant there wasn't much view at the top and it was just too cold to linger anywhere for too long.
Marilyn & I lost our way at one point and didn't know whether to turn back, but a couple of encounters with the locals persuaded us to keep going.
The second one was with a farmer in a white boiler suit with a spray mask on who jumped off his tractor to duck into a cafe for a quick port at 10.30am before carrying on his way again.
He and another woman in the café spoke rapid Portuguese, assuming we understood what they were saying, so they spoke even faster!
We continued on and thankfully managed to reconnect with the yellow arrows of the camino again.
What a relief to eventually meet up with the others at Cafe Nunes but so easy to miss a yellow arrow when it's on a rock on the ground!
Fingers crossed for more sun and warmer temperatures tomorrow!
Jan is one of five Kiwi carers walking the Camino Portugues to raise awareness of the need for carers to have some time out each day doing something they enjoy. An occupational therapist, Jan cared for her elderly Mum for several years until she passed away while we were planning the camino.
Follow Carers NZ's Walk for Carers here at the website, with stories posted as we walk the Camino Portugues, and at Facebook! You might also enjoy reading tour leader Bill Bennett's blog about the journey.