About the time my mother-in-law was 80, we began to be worried about her mental health.
She would lose things she had never lost before. She would tell us someone had been in her house and stolen things. And most important of all, she could not manage her medication: her inhalers (for emphysema) would be used up in a couple of days, instead of a month!
For some years, since her husband died, I had been taking her to the supermarket each week, and over that time she had lost track of her pin number for her card at the checkout.
So the writing was on the wall.
We sorted the medication by taking control of it and visiting each time she was due to take it. Fortunately we had shifted to a house a few minutes away.
Before long she announced that she couldn't cope with living on her own over another winter, so we had an extra space added to our house and moved her in in January when the weather was warm.
Living with Mum was an eye-opener to the progress and effects of Alzheimers. Slowly we watched her lose her skills with knitting, jigsaws. and eventually crossword puzzles. Each time we tried to help her maintain her ability, but it didn't take long before each in turn became a mystery.
Along with Alzheimers came depression: rebellion, anxiety and antagonism to her daughter, my wife, who was her chief supporter. Until the morning I refused to put up with her childish behaviour, bundled her into her dressing-gown and slippers and more or less manhandled her into the car for a specialist's appointment.
The specialist prescribed a relatively new anti-anxiety drug (Efexor), which we picked up from the chemist and startedstraightaway. We were warned that it might take a week or two to take effect, but by the time my wife came home from work a couple of hours later, Mum was happy, talking almost normally, and looking forward to the next activity and mealtime. No anxiety. What a magic potion!
Eventually the deterioration produced sleeplessness and that tipped the scales as we were being regularly woken not once, but sometimes up to five times in a night, so Mum had to be moved to the rest home. None of these shifts had been a problem, she seemed to take to the changes with no trouble.
Rest home staff, or other carers, don't have time to feed every patient or make sure they sip their drink every fewminutes. Short of feeding by IV drip, there is no way Alzheimers patients could be kept alive indefinitely. They just lose the power to take an action likeputting food in the mouth.
We slowly watched the continuing decline; I remember timing her for 15 minutes while she held a cup of tea halfway from the saucer to her mouth, poised but not moving.
After two years at the rest home, Mum died peacefully.
So what did I learn from all this?
I learned a lot aboutAlzheimers; I already knew some of it from my reading and experience as an activities officer in an Alzheimers ward for two years. But the experience of caring for someone 24 hours a day was different.
One specific thing I learned, from a very good video, was that Alzheimers often affects the central top of thebrain, where decisions are made, so that the patient does not have the capacity to initiate action.
I learned that the effect of Alzheimers is to slow everything down. Mum reported that it was like trying to wade through mud – or that's the sort of effect she experienced. Everything is confused.
I learned that medication can be very helpful, but is not a cure-all.
I learned that it was important for the chief carer to have someone else to offload to, both in the sense of being able to talk, and in the sense of being able to delegate jobs.
I learned that, contrary to what I had been told, Alzheimers kills the patient. The inability to take action means some patients starve themselves to death or dehydrate their bodies with the same result. And it is practically impossible to prevent this happening.
I learned that Alzheimers may be confusing and unpleasant for the sufferer, but it is devastating for thefamily and friends, especially when the loved one loses the power to recognise people.
And that is enough learning for anyone!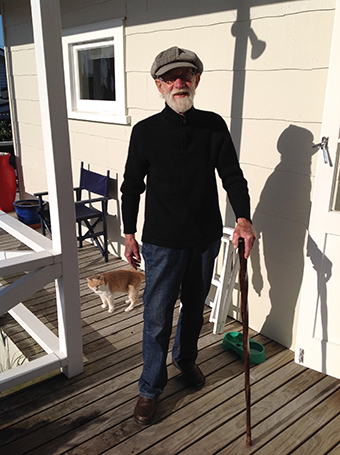 Blogger Frank Gaze lives in New Plymouth. He often writes for Family Care magazine.