Home elevators are going up the list of options Kiwis are considering if they want to continue living in their existing home, but are finding the stairs troublesome.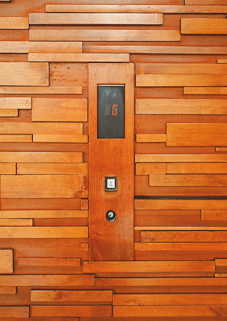 While elevators are still seen by many as a luxury modification to make multi-level homes accessible, or when planning a new dwelling, they can be a prudent investment.
An elevator will allow you to live comfortably in your home, providing full access to each floor without having to modify your lifestyle to suit emerging mobility needs. You can continue to enjoy the views and amenities of your home's upper floors, knowing that the cost of installing a lift may be recovered by a similar increase in the value of your property.
Features such as elevators are increasingly desirable for would be buyers, including those who don't have mobility needs but resent lugging groceries, furniture, and other heavy items up flights of stairs. A growing number of New Zealanders are also installing elevators in their newly built homes, planning for reduced mobility as they age, just in case. Depending on the average price of homes in your area, and the state of the property market if and when you decide to sell, investment in a lift can add up to 10 per cent to the value of your home.
While recovering your lift investment may not be a deciding factor, it pays to consult real estate agents when making your choice so the costs and added value (if any) are in proportion to property prices in your area. We investigated elevator options in New Zealand and were surprised by the number of organisations supplying home lifts. There is clearly a growing market for these mobility solutions!
Planning
When considering a lift, you can choose from internal or external models. Some elevator technologies are better suited to new builds than others, or to bigger or smaller dwellings, and are priced accordingly. While there is no minimum size requirement for a domestic lift, consider the combined weight of passengers, freight, and items such as wheelchairs or scooters your elevator would typically carry.
Do you need a 'through lift' with double doors that allow you to walk or wheel into one end and out the other? This is much easier if you are maneouvering a wheelchair or mobility scooter, but will require more generous landing spaces than a single door configuration. Another consideration is the size of your finished 'lift well', the enclosed space that allows the elevator car to move between floors, with at least one entry door at each level.
Some elevators require excavation of a pit beneath the lift well to house operating machinery and electrical, plumbing, or other connections. Pneumatic elevators only require a level floor surface for installation; no excavation is needed, so remodelling costs are less. Check the installation requirements for your preferred lift model(s) with suppliers and your builder or designer.
John Summerville, manager for Simplex Lifts, says domestic elevators do not typically have automatic door openers, though the doors will automatically lock while the elevator is in use.
"Door locks are very important in the safe running of all lifts."
You can often choose internal finishes for your elevator (flooring, wall colours and surfaces) to complement your home's decor.
Be Clear
Suppliers encourage those considering a lift to create a 'wish list', taking into account their budget, the desired position of the elevator, size requirements, and finish preferences. Consider whether an external 'platform lift' that is exposed to the weather might be sufficient to help you move between floors. Or, is an internal enclosed elevator preferable (albeit more costly)?
Most suppliers can provide a ballpark estimate of costs before visiting your property if you provide clear information about the type of lift you're looking for, where it will be sited, and whether the elevator is for a new home or 'retrofitted' to an existing building. In some cases, government funding may be available for at least part of the cost to buy and install an elevator, as recommended by an occupational therapist.
Ensure your lift is sited where there is sufficient room to maneouvre equipment into and out of the doors without difficulty. Costs will vary depending on the type and style of the lift you choose, and its finish and features. You'll need to plan for build and alteration costs on top of the purchase price of your elevator, and should allow for an annual service check to ensure your lift continues to operate safely and smoothly.
If you're building a new dwelling but don't want to install a lift straightaway, allowing space to add an elevator later will reduce building and installation costs when the time comes. Many elevators include battery backup so they can continue to operate (in a downward direction at least) in the event of a power failure. Communication options are also available so elevator users can call for help if the lift malfunctions.
Different Types of Lifts
Electronic rope hoists, which use an overhead motor and wire ropes to raise the lift car.
Electronic rope hoists which have their motors in a pit beneath the lift.
Electronic hydraulic lifts which use pumped oil either below or at the rear of the lift.
Electronic screw hoists which use a large threaded rod to raise the lift.
Water powered hydraulic lifts, which use normal water pressure to raise a platform or lift car; usually an electric boost water pump is fitted to these.
Stair climbers use electricity to raise a chair or wheelchair attached to a rail at the side of the staircase.
Helpful Checklist!
Use the internet or your local telephone directory to search for suppliers of elevators and lifts in your area.
A demonstration ride in several different models will make the choice easier.
Prices will range anywhere from under $10,000 plus GST for certain stair lifts to more than $60,000 for highly featured home or low rise elevators.
All domestic lifts must comply with the New Zealand Building Code, and building consent should be sought prior to installation. In a new house, most of this would be taken care of, with the designer or builder working with the lift supplier. In retrofit situations, the lift supplier can advise and organise full Building Code compliance for their product. Most Councils will require an independent inspection after installation.
While parts like door locks and indicator lights may need replacing from time to time, the main machinery in home elevators is robust and should have a long service life!
Currently ongoing inspections are not a requirement for home lifts; follow your supplier's guidelines about how often safety inspections should be carried out. All lifts will at some point require maintenance; ask your supplier about service plans. Suppliers say the cost of maintenance work would be similar to a car service.
Talk to a number of companies when choosing your home lift or elevator.
Funding assistance may be available; seek advice from your local needs assessor, occupational therapist, or ACC client manager.
If you're planning a new building but don't want to install an elevator initially, allow space for it to be added later. This will make it easier (and less costly) if and when the time comes to install an elevator.
Consider appearance. An elevator is a substantial addition to your home, so it should complement the decor. You can conceal some units behind walls, while others may be mounted out in the open. Consider how the finished elevator will appear (inside and out) when making your selection.
Use our Buyer's Guide (below) to find organisations that can tell you about lifts that might suit your needs, and answer questions about costs and installation requirements.
Who Can Help?
Abode Elevators
0800 895 206
sales@abodelifts.com
www.abodeelevators.co.nz
Access Elevators
0800 745 438
info@lifts.co.nz
www.lifts.co.nz
Acorn Stairlifts
0800 782 475
www.acornstairlifts.co.nz
Associated Lifts
0800 113 159
sales@associatedlifts.co.nz
www.paxton.co.nz
Cremer Lifts
0800 404 060
info@cremerlifts.co.nz
www.cremerlifts.co.nz
H E Lifts
0800 225 221
www.helifts.co.nz
Independence
0800 926 677
info@independence.co.nz
www.independence.co.nz
Kone New Zealand
09 303 9600 (there are offices in Auckland, Wellington, Christchurch, and Dunedin)
www.kone.com
Logan Elevators
0800 353 828
www.loganelevators.co.nz
Otis
09 355 6600 (offices in Auckland, Wellington, and Christchurch)
www.otis.com
P&G Lifts
09 836 1452
www.pgeng.co.nz
Vestner
03 338 5188 or 0800 741 000
info@vestner.co.nz
www.vestner.co.nz
Phoenix Elevators
0800 823 030
info@phoenixelevators.co.nz
www.phoenixelevators.co.nz
Quinn Engineering
07 867 6712
info@quinn.co.nz
www.quinn.co.nz
Simplex Lifts
07 574 3853
simplex@kinect.co.nz
www.simplexlifts.co.nz
Supreme Hoists
07 549 0503
info@supremehoists.co.nz
www.supremehoists.co.nz
Wolfe Elevators
09 274 7562
wally@wolfeelevators.co.nz
www.wolfeelevators.co.nz
Other Useful Contacts
Chat to the product experts at your local Disability Resource or Information Centre. To find your nearest Centre phone 03 214 5000 or visit www.nzfdic.org.nz Another helpful website is www.weka.net.nz
www.lifemark.co.nz is the site of Lifetime Design, an independent not for profit organisation established in 2006 by CCS Disability Action. Lifetime Design provides design ideas and works with architects, designers, retirement village operators, developers, and home owners to ensure that New Zealand housing will cater for the ageing population. The website includes a helpful Lifemark™ for Homeowners section which features a video by Graeme Sinclair.
www.lifteye.co.nz The website of the Lifteye Consultancy has a comprehensive database of suppliers, and helpful advice for anyone considering a home or commercial lift installation.