If you are caring for someone with dementia, you may find this article and the related audio, video, and factsheets helpful.
The social and economic impact of dementia
An illuminating and sobering report from Alzheimers New Zealand and the Ministry of Health shows that more than 40,000 New Zealanders are affected by dementia, and that number is growing. This will have a significant economic and social impact for us all.


Advice from a geriatric specialist 
Maree Todd has more than 20 years' experience as a geriatrician, a specialist in the care of the elderly. In this interview she talks about some of the tough decisions facing those who care for elderly loved ones, such as when to call for help and, even tougher, when not to call for help.

Listen to an interview with Maree.
Support from Alzheimers NZ
Whether you are caring for someone with dementia or affected by it yourself, support is available from Alzheimers New Zealand. The organisation offers information, advice, education, and support via its website, by phone, or in person. Listen to a summary of the help available.

Portrait of an Epidemic – Book Review

There are plenty of books devoted to dementia and Alzheimer's. The best ones help us understand what is happening to people who are affected by this sometimes bewildering disease … as Pip Fowler found when she went looking for insights to help her understand what was happening to her father. David Shenk's book The Forgetting: Alzheimer's: Portrait of an Epidemic helped Pip understand that some good can come from the disease.
But What's Wrong with Me?
Ray and Eileen Smith realised when Ray was only 53 that he might have Alzheimer's. Ten years on, Eileen talks about how Ray's diagnosis was communicated to them, how they coped with the progression of this aggressive form of the disease, and about what life is like for Eileen now. Listen to the interview with Eileen.
The Chelsea Club, Wellington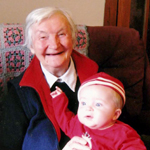 Janet Davidson and her small team of especially trained carers run Wellington's Chelsea Club, a social club for people affected by dementia. Pip Fowler paid a visit to the club and found a warm, caring atmosphere where, once a week, members enjoy a stimulating day while giving their carers some much needed respite.
To learn more about the club: